PROJECT FALCON cont.

January, 15, 2005: We decided to rewire the car since we are going to a completely different ignition setup. We pulled the factory wiring harness apart and removed everything but the exterior lighting wires. All of the factory lighting is functional including the turn signals and backup lights. All of the ignition and accessories are controlled by a Painless wiring switch panel. We also added a billet aluminum battery holder from Aerospace Components.

February, 15, 2005: The fuel system is complete except for the engine compartment. We used a Magnaflow 500 fuel pump and one #10 line to supply the fuel to the fuel log up front. We decided to pull the differential out and go to an aluminum Strange case and lightened ring gear.

March 5, 2005: We finally made time to run the engine on the dyno. On the 7th pull we were able to make 698 H.P.@7400 rpm and 542 lb-ft of torque@6200 rpm.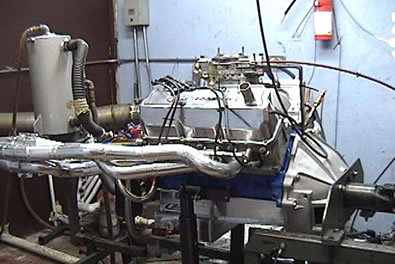 April 8, 2005: The motor is in the car now and there are only a few things left to do before we can start testing.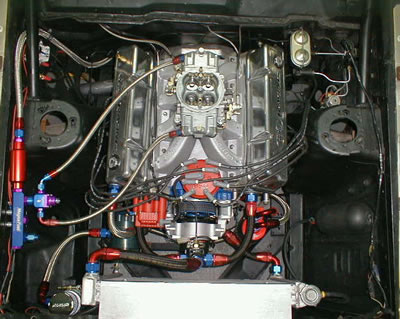 We are working on a bolt in coil over adjustable shock this setup should work well and keep us within the rule of bolt-on upgrades only.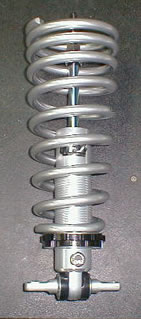 April 21, 2005: We are almost ready for testing we are planning to go out next Friday for some shake down passes. It looks like we will be ready for World Ford Challenge this year.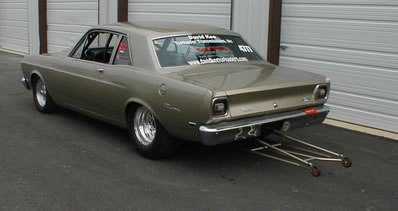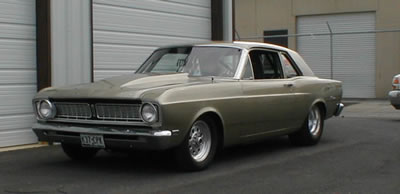 May 1, 2005: We have a few bugs to work out of the car. The engine ran great but the converter was way too to tight to get any tuning accomplished. We also had some brake problems that were caused by lack of use during the upgrades. We will be pulling the Granada front brakes and going with Wilwood lightweight brakes.

May 23, 2005: We will take advantage of the downtime and go ahead and install the nitrous system while we wait on the converter. We decided to pull the side glass and replace it with Lexan. After pulling the glass and regulators we found out we would loose almost 60#. We pulled the front brakes and were shocked to find out the Wilwood setup was also almost 60# lighter.

July 30, 2005: We went to our first 1/8 mile race in Houston, Texas at Houston Motorsports Park called Clobberthon. The events are well known in the Houston area as organized street races in a safe and legal environment. We ran in the new True 10.5 class with a 100hp tune up in the nitrous. The Falcon went 5.99@117mph. We only made one adjustment to the rear shocks and everything else seemed to work just the way it was.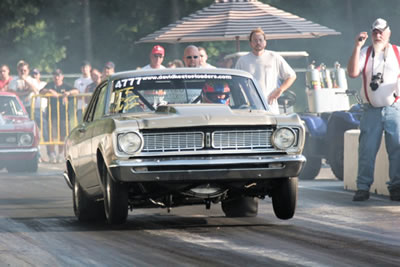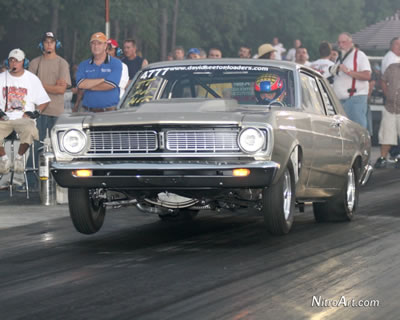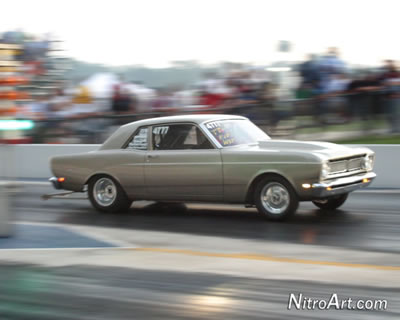 August 19, 2005: We are headed back to Houston Motorsports Park to run in True 10.5 at Clobberthon 18. We installed another stage of nitrous, new tires, and a Stroud parachute. This time we are ready to fly.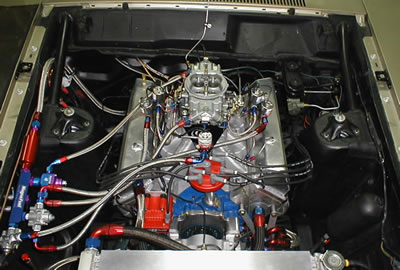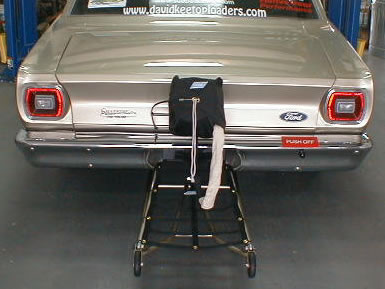 September 20, 2005: We found out that a 28" tire with a standard sidewall without tubes gets a little loose after about 120mph in the 1/8 mile. We added a wing and bumped up the tire pressure and this seemed to help. We went back to Houston Motorsports Park for Maximum Impact and were able to run a best of 5.70 at 124mph with a 1.32 60' time.

October 12, 2005: We decided to go with a larger rear tire since the rules allow a 29.5" x 10.5" non W tire. We went with Mickey Thompson's new 29.5 x 10.5 x 15S stiff sidewall slick. We also changed to Weld Racing Aluma Star double bead-loc wheels on the rear. The bigger tire fit well and only required a little trimming at the front of the wheel opening.